Opening of the doors of Mercy in the Archdiocese
26-01-2016
On Sunday, January 10, 2016, hundreds of faithful made their way to the three different locations where a Door of Mercy was inaugurated. Here is a summary of these three memorable moments.
Saint-Sacrement Sanctuary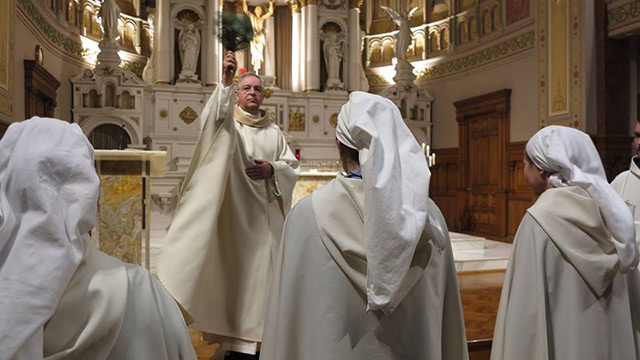 "Open the doors of justice! We will enter, and give thanks to the Lord!" It is upon these words that the Door of Mercy at Saint-Sacrement Sanctuary was opened, on Sunday, January 10, on the feast of the Baptism of the Lord.

"Before us lies the door of the Lord: let us enter to obtain mercy and forgiveness." On these words, the principal celebrant, Father François Sarrazin, the bishop's delegate for the occasion, as well as a delegation comprised of Angel in a wheelchair and his wife, Hélène, Ivica and Marianne with their children Samuel and Myriam, and Yannick, the youth in charge of the choir, crossed the Door's threshold to join the Eucharistic Celebration.

There is a pilgrimage we can make that could lead us to becoming "Merciful Like the Father." It first consists in discovering mercy and to allow ourselves to become filled with it; we then climb the staircase of mercy and reach deep down into our hearts; personally go through the door as though pushing the door of Christ's heart to gain entrance there; celebrate mercy through the Sacrament of Reconciliation and say yes to indulgence; take the time to draw on the Word and adore the mercy in the Blessed Sacrament exposed in this sanctuary; celebrate Jesus in the Eucharist at Mass, and finally, leave by the mission's staircase.

The Door of Mercy will be open all year, up until the feast of All Saints. For those who wish to go through the Door of Mercy at Saint-Sacrement Sanctuary, here is the daily schedule:

Tuesday, Wednesday, and Friday: 6 am to 9 pm
Thursday: 12:30 pm to 7:30 pm
Saturday and Sunday: 7 am to 9 pm
Monday: closed

See the photo album
Marie-Reine-des-Coeurs Sanctuary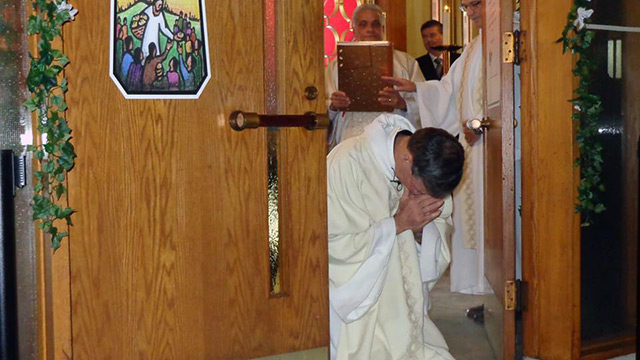 The people who attended the Mass on January 10, 2016 for the inauguration of the Door of Mercy were touched by the presence of Msgr. Michel Parent, Vicar General of the Archdiocese and the Archbishop's delegate for the ceremony. They were moved by both the quality and sincerity of his words and by his warm demeanour.

The sacristan nuns and many participants, priests and laypeople alike, wonderfully organized the many stages of this celebration.

You have two options for going through the Door of Mercy:
a short journey that you begin by taking one of the leaflets before crossing the door's threshold and then doing the spiritual activity that it suggests;
or a short pilgrimage inside the sanctuary that you begin by taking one of the booklets in which you will find instructions for an inner journey. Anyone who is sincere is welcome to go through the Door of Mercy.
See the photo album
Notre-dame-de-Lourdes Chapel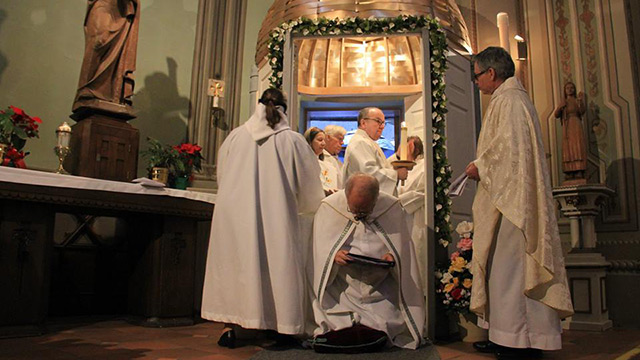 On Sunday, January 10, 2016, during the 11:30 am Sunday Mass, Msgr. Roger Dufresne presided at the ceremony of the opening of the Door of Mercy. The chapel, which is celebrating its 135th anniversary, was filled with faithful and pilgrims from various parts of the city. A dozen priests were present, including Mr. Jaime Mora p.s.s., representing the Provincial Council of Saint Sulpice, and our chaplain, Mr. Miguel Castellanos p.s.s.. Approximately sixty chapel volunteers were there, and they rejoiced in taking part in this great event.

Brother Luc Denommé c.s.v. designed and crafted the Door. He admitted that Saint Joseph gave him the strength to complete it in time, as he was under a lot of pressure. "Joseph helped me so that the chapel belonging to his wife, Mary, could be ready to receive the work of Jesus, who said: "I am the Door."

At the Notre-Dame-de-Lourdes Chapel, it is recommended that pilgrims make more than just a physical gesture of going through this door, which is located on the side of the building. This spiritual journey demonstrates the desire to make changes in one's life, namely, to let oneself be touched by the Mercy of God, who welcomes with open arms all who wish to encounter him in the silence during the Adoration, in the thanksgiving during the Eucharist, in the meditation during the Rosary, or in an encounter with a priest.

The chapel is open daily from 11 am to 6 pm. Mass is celebrated on weekdays at noon and 5 pm, on Sunday at 10 am, 11:30 am and 5 pm. (Berri-UQAM metro station)

See the photo album
Three Other Doors are Soon to be Opened
During the month of February, three other Doors of Mercy will be inaugurated in Montreal. They will be at Saint Joseph's Oratory of Mount Royal, (February 7 at 7:30 pm), Notre-Dame-des-Sept-Douleurs Church (February 7 at 10:30 am) and Sanctuaire de La Réparation au Sacré-Cœur et de Saint Padre Pio (February 10 at 11 am).

Churches that have committed to promoting mercy through their pastoral projects, namely by offering "24 Hours for the Lord," will also be "Churches of Mercy." A list will be posted on our diocesan website in the next few days.

For more information on the Year of Mercy