Birth: September 18, 1951
Priesthood: September 7, 1983
Episcopate: September 10, 2011
Archbishop of Montreal: March 20, 2012

Archbishop Lépine has had many years of experience as a pastor and teacher. Ordained a priest in 1983, at Saint-André-Apôtre Parish, he began his priestly ministry at Saint-Joseph-de-Mont-Royal before departing for Rome to study philosophy at the Gregorian University from 1986 to 1989. Upon his return to Montreal, he was appointed parish assistant at Notre-Dame-des-Neiges and pastor of Saint-Joseph-de-Mont-Royal. He ministered there until 1996, when he became the director of Jean-Claude Cardinal Turcotte's secretariat.
In 1998, he was called to Rome, where he worked for the Secretary of State and then for the Congregation for Divine Worship. In 2000, he returned to Montreal and was appointed director of the Grand Séminaire de Montréal, a mandate that he fulfilled up until 2006. From 2006 to 2012, he was pastor of Purification de la Bienheureuse-Vierge-Marie and Notre-Dame-des-Champs parishes. Throughout his various activities, Most Rev. Lépine taught philosophy and theology for some twenty years at the Grand Séminaire de Montréal.
Ordained a bishop on September 10, 2011 by Jean-Claude Cardinal Turcotte, he was appointed Episcopal Vicar to Family and Youth as well as Director of the Pastoral Liturgy Service. Finally, on March 20, 2012, Pope Benedict XVI appointed him archbishop of Montreal.

In this new Web series, Archbishop Christian Lépine goes to meet the various communities throughout the diocese.
DECEMBER
Sunday, December 8 – 10:00 a.m. - Notre-Dame-des-Philippines Mission
Mass – 30e Anniversary and Patronal Feast

Monday, December 9 – 3:00 p.m. - Bishop Christian Riesbeck, C.C. Installation Mass - Bishop of Saint John, N.-B.
Immaculée-Conception Cathedral - Saint John, N.-B.

Thursday, December 12 – 10:30 p.m. - Résidence Lux Gouverneur - Mass and Dinner

Friday, December 13 – 7:30 p.m. - Rose mystique - Mass -Notre-Dame-Porte-de-l'Aurore Church

Saturday, December 14 - 9:30 a.m - 4:30 p.m. - Healing Day for separated/divorced people
Saint-Ambroise Parish

Sunday, December 15 – 1:00 p.m. -Notre-Dame-de-Guadalupe Mission - Mass – Feast of N.-D. de Guadalupe

Friday, December 20 – 11:00 a.m. - Christmas Mass « 2000 »

Sunday, December 22 – 11:30 a.m. - Saint-Léonard Parish - Mass – 130e Anniversary

Tuesday, December 24 -4:30 p.m. - Maison du Père - Christmas Mass

Tuesday, December 24 – 7:00 p.m. - Saint-Paul-de-la-Croix Parish - Christmas Mass

Tuesday, December 24 - Midnight - Christmas Mass - Mary Queen of the World Cathedral

JANUARY 2020

Wednesday, January 1st - 11:00 a.m. - New Year Mass, Mary Queen of the World Cathedral
From Monday through Friday, Jan. 6-10 - AECQ - Retreat

Friday, January 10 - 7:00 p.m. - Installation of the Most Reverend Claude Hamelin, Bishop of Saint-Jean-Longueuil - Mass

Saturday, January 11 - 10:30 a.m. - Épiphany – greetings from the Archbishop, Saint-Sixte Parish
Sunday, January 12 - 10:30 a.m. - 400e Anniversary Mass for Marguerite Bourgeoys (bilingual)
Notre-Dame-de-Bon-Secours Chapel
Tuesday, January 14 - 5:00 p.m. - Épiphany – Greetings from the Archbishop
Notre-Dame-du-Mont-Carmel Parish
Wednesday, January 15 - noon - Christmas Mass at « 2000 »
Wednesday, January 15 - 5:00 p.m. - Épiphany – Greetings from the Archbishop, Saint-Pie-X parish

Saturday, January 18 - 3:00 p.m. - Conference for university students
Grand Séminaire de Montréal
Saturday, January 18 - 5:00 p.m. - Mass for university students
Grand Séminaire de Montréal Chapel
Sunday, January 19 - 3 p.m. - Ecumenical Celebration
Week of Prayer for Christian Unity, Canadian Centre for Ecumenism
Église arménienne apostolique Saint-Grégoire L'Illuminateur

Saturday. January 25 - 6:00 p.m. - Catholic doctors - Mary Queen of the World, l'Assomption Chapel
(private event)
Sunday, January 26 - 11:00 a.m. - Sainte-Marthe parish - Mass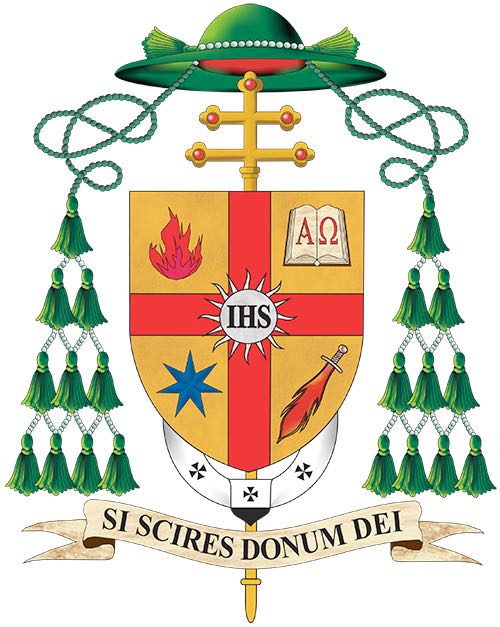 The coat of arms is the emblem of the bishop who expresses the message he wants to convey.
That of Monsignor Lépine is surmounted by a green hat, an ecclesiastical hat, from which hang on each side ten tassels indicating his rank of archbishop. It is placed on a processional double cross, also proper to the archbishop, and the pallium.
The pallium, a liturgical ornament, is a circular band of lambswool adorned with black crosses. The pallium evokes Jesus the Good Shepherd, who searches for the lost sheep, who carries it on his shoulders and gives his life for his sheep. This garment, symbol of communion with the successor of Peter, is conferred by the pope on the metropolitan archbishops as a sign of sharing the pastoral charge.
On the shield are the arms of the archbishop, a banner with the motto he has chosen as his program of life and that shows the spirit in which he wants to live his episcopate: "Si Scires Donum Dei" - If you knew the gift of God - taken from the Gospel of the Samaritan woman (Jn 4:10).
The shield with the golden background that signifies the Glory of God, the radiance of his Love, is superimposed by a red cross in reference to the passion and crucifixion of Jesus Christ whose center is a radiant sun charged with letters IHS, the monogram of Christ ("Jesushominumsalvator", Jesus, Savior of humanity), in reference to the presence of Jesus Christ in the Eucharist.
On each side of the red cross are found:

The open book that recalls the Holy Bible, Word of God that the bishop has the responsibility to teach. It is charged with the letters of the Greek alphabet signifying that Jesus is the beginning and the end of all: "I am the Alpha and the Omega, says the Lord. He who is, who was and is coming, the Almighty "(Ap1,8).

The flame that represents the Holy Spirit, given at Pentecost, that transforms for the mission and gives strength to witness.

The star that signifies the Virgin Mary, Star of the New Evangelization, who is Mother and model of the Church.

The sword of fire which represents Archangel Michael, whose name means "Who is like God?" He confesses the unique God, defends and protects in the fight against Satan and the forces of evil.