Texte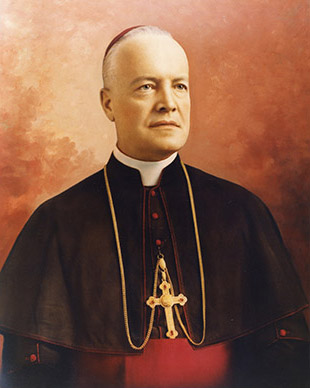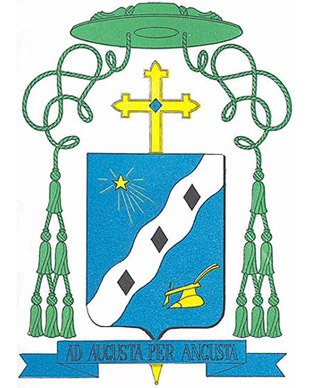 Archbishop Charbonneau's episcopate opens the second century of the history of our diocese. He was the author of a major document on Catholic Action, where he expressed his confidence in youth and laypeople. In 1941, he ordained as bishop Fr. Lawrence Patrick Whelan, making him the first English-speaking bishop of the Diocesan Curia of Montreal.
He founded the Oeuvre des vocations and showed special interest in teacher training as well as the family, the lowly and the poor. It was during the famous asbestos strike (1949) that he best showed his love for workers. His surprise resignation requested by the Vatican in 1950 brought a premature end to the episcopate of this shepherd, who was loved by his priests and the faithful.
Family origins and birth
Joseph Charbonneau was born on July 31, 1892, in the Franco-Ontarian village of Lefaivre. He was the third of the 10 children of Daniel, a farmer, and Caroline Yelle. Through his mother, he was the cousin of a promiment Canadian bishop, Émile Yelle, P.S.S., coadjutor archbishop of Saint-Boniface in Manitoba (1933-1941).

Studies, ordination, various duties
Joseph Charbonneau undertook his classical studies at the Montfortian junior seminary of Huberdeau and finished them at the Séminaire de Sainte-Thérèse. He took theology at the Grand Séminaire de Montréal. He was ordained a priest on June 24, 1916, in his home village by the Archbishop of Ottawa, Charles-H. Gauthier.

Read more...
Bishop of Hearst
On June 22, 1939, Rome appointed him Bishop of Hearst, a new French-speaking diocese that had just been created in Northern Ontario. His tenure was brief (11 months), the time to establish the first structures of the diocese, visit parishes, become aware of the problems of settlement, agriculture, and education, and be very happy.

Archbishop of Montreal
On May 18, 1940, Joseph Charbonneau was appointed coadjutor archbishop of Montreal with future succession to assist Archbishop Gauthier, who was alone, in frail health, and would die on August 31. On the same day, at age 48, Charbonneau became the titular Archbishop of Montreal.

Read more...
Resignation
Early in 1950, a totally unexpected event shook the Catholic population of Montreal. Confirming the rumors that were circulating secretly, the newspapers published the resignation of Archbishop Joseph Charbonneau as Archbishop of Montreal on February 9. What really happened?

Read more...
For more information : Denise Robillard, Monseigneur Joseph Charbonneau. Bouc émissaire d'une lutte de pouvoir. Québec, PUL, 2013, 507 p.