Texte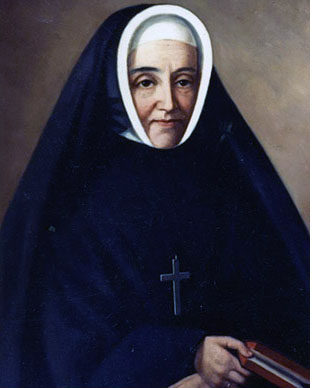 Born in Terrebonne, Quebec, in 1809, to illiterate farmers, Esther Blondin was the third of a family of 12 children. Still illiterate at age 20, she dreamed of teaching one day. In the meantime, she offered her services to the sisters of the Congregation of Notre Dame and learned to read and write in her spare time. She became increasingly aware of the exclusion of almost all the people of her country who, like her, did not yet have access to education.
An attempt at religious life failed because of her frail health. However, she agreed to teach at the Académie de Vaudreuil and continued to see the depth of the ignorance of those who were socially excluded.
Esther felt that education had to be a collective undertaking. She quickly recruited teaching women who led her to found a community dedicated to teaching. The community was called Sisters of Saint Anne. As religious and superior of her community, she assumed the name of Mother Marie-Anne.
A pioneering project
Mother Marie-Anne conceived an innovative project: to open mixed schools to remedy the pitiful situation of rural schools at that time. But resistance came from the Church. She was told that "the community could teach children of both sexes only to the age of 10."
She wrote to Ignace Bourget, Bishop of Montreal, to tell him that she "regarded herself as having failed, because it was the poor who had appealed to her zeal and charity."
However, despite the interdict, the Sisters of Saint Anne always taught mixed classes at all levels of education.
Afterwards, Mother Marie-Anne faced grave problems. The very next year, as a result of difficulties with a young priest who had become chaplain of the convent, Mother Marie-Anne obeyed Bishop Bourget's instruction and agreed to resign as superior. She then became directress at the Sainte-Geneviève boarding school. But four years later, she was cast aside a second time.
Forgotten, then recognized
Mother Marie-Anne, as she expressed it, was reduced to "zero", to such a point that her name was not on the list of the sisters and their positions. In 1859, in the Saint-Jacques convent, in the Joliette area, she was named sacristan. For 30 years, she stayed in the shadows doing manual tasks according to the community's needs until she died in 1890.
Because of stubborn prejudice, she remained in the shadows long after her death. Thanks to a series of talks given by a chaplain who had interrogated witnesses of her life, enthusiasm rose for Mother Marie-Anne.
In 1950, at the centennial of the founding of the congregation, the official process began to have her holiness recognized. She was proclaimed Venerable in 1991 and Blessed on April 29, 2001, by Pope John Paul II.
A prophetic presence
The Sisters of Saint Anne and their associates continue Mother Marie-Anne's mission by seeking to be a prophetic presence in solidarity and commitment to justice for women, youth, the impoverished, and the marginalized.
Interesting links: