Texte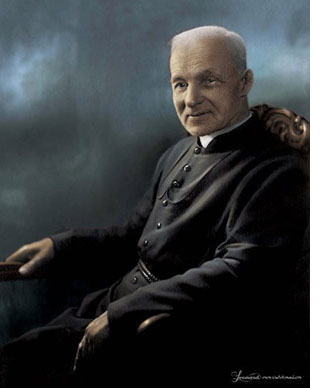 Alfred Bessette was born on August 9, 1845, into a family with 13 children, at Saint-Grégoire d'Iberville, on the south shore of Montreal. He became an orphan at age 12. Alfred was poor and uneducated, like many others at that time.
However, he attracted attention through his long prayer periods and fasting. His mother had taught him to be devoted to Saint Joseph, in whom he had boundless confidence. Very early, he had various manual jobs, but his small size, frail health and lack of physical strength hindered his capacity for work.
Around 1868, Alfred was trying to find his way. He confided in Fr. André Provençal, parish priest of Saint-Césaire, in the diocese of Saint-Hyacinthe, who tried to have him admitted into the Congregation of Holy Cross. In 1870, he became the porter at Notre Dame College in Montreal.
Because of his state of health and lack of education, the religious authorities were reluctant to accept him into the Congregation. But the new master of novices intervened, saying, "If this young man becomes unable to work, he at least will be able to pray well."
Alfred Bessette made his perpetual profession at age 28, on February 2, 1874. He took the name of Brother André as a tribute to Fr. Provençal. He was given the role of porter, which he kept until 1909. But he performed many other tasks, such as sweeping, maintaining the lamps, visiting the sick and doing errands, like "a jack of all trades," as he modestly said.
Sometimes, visitors entrusted their diseases to Brother André's prayers. Others invited him to their homes. He prayed with them, gave them a medal of Saint Joseph, suggested that they rub themselves with a few drops of the olive oil that was burning before the statue of the saint in the college chapel. During long hours every day, he briefly listened to people's misfortunes, and everyone had faith and trust when leaving. Curiously, many said later that they were cured or felt better.
The number of visitors kept increasing, and contagion was feared. The direction asked Brother André to go across the street and stand at the tramway (public transit) stop, in the shelter facing the college. He brought the visitors to pray before a statue of Saint Joseph that was in a niche on Mount Royal.
Then, he planned to build an oratory to honour Saint Joseph. He obtained the authorization, provided that he could get funding. The first sanctuary dedicated to Saint Joseph was inaugurated on October 16, 1904. It was enlarged four times because pilgrims were coming in by the thousands year after year.
Brother André's reputation for holiness spread throughout the world. He steadfastly denied it, giving all credit to God who heals through Saint Joseph's intercession. He died on January 6, 1937, aged 91. For a week, despite the harsh weather, almost a million people filed past his remains. As early as 1941, many efforts were made to have him recognized as a saint. He was finally canonized on October 17, 2010.
Interesting links: