Texte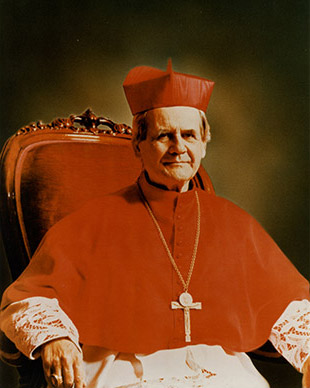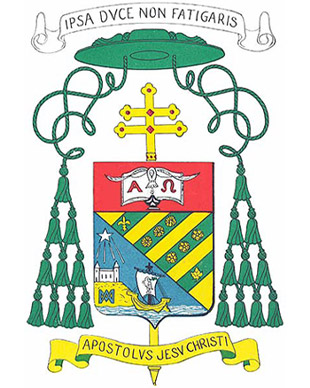 In 1950, Paul-Émile Léger became Archbishop of Montreal. A prolofic pastor with a flamboyant personality, he created the radio program Le chapelet en famille and founded the Foyer de charité as well as the Saint-Charles-Borromée Hospital. Starting in 1952, he established diocesan organizations such as the Diocesan Service of Bible Courses and the Inquiry Forum (now the Canadian Centre for Ecumenism). In December 1953, he called a diocesan synod. The years that followed were marked by La Grande Mission (1960) and the Second Vatican Council (1962-1965). In November 1967, he announced his resignation and became a missionary in Cameroon. His presence in the Church and in the City took the form of over 5,000 addresses, homilies, and speeches given in a wide range of settings.

Training and early ministries
Paul-Émile Léger was born in Valleyfield on April 26, 1904, to Ernest Léger and Alda Beauvais. His brother Jules played a prominent role in Canadian diplomacy. He did his classical studies at Séminaire de Sainte-Thérèse and his theological studies at the Major Seminary of Montreal. He was ordained a priest on March 25, 1929, by Archbishop Georges Gauthier for the diocese of Valleyfield.

Read more...

Archbishop of Montréal
During his tenure as president, Pope Pius XII chose him as Archbishop of Montreal on March 25, 1950. One month later, on April 26, he was ordained bishop in Rome on his 46th birthday. During the evening of May 17, Paul-Émile Léger was installed as Archbishop of Montreal in the Cathedral-Basilica by the apostolic delegate to Canada, Archbishop Ildebrando Antoniutti.

Read more...

Significant events of the period 1950-1957
One of the first measures of the archbishop was to give a unique impetus to Marial devotion among us. He created Le chapelet en famille, a quarter of an hour of family prayer every evening starting during fall 1950, on the radio. This moment of prayer to the Virgin and meditation on Christian life gathered an enormous invisible audience to whom the archbishop spoke after the family supper.

Read more...

Significant events of the period 1958-1967
In 1960, at a turning point in his personal development and in the evolution of a Church that was soon to gather in a Council, the Cardinal launched La Grande Mission, a large-scale operation inspired by the experience of a mission carried out in Milan by Cardinal Montini, future Paul VI, and whose theme was "God is our Father." La Grande Mission was the occasion of a reflection on society. It seeked to identify the current pastoral needs. It called everyone to inner conversion. A wide-ranging plan of preaching and meetings was aimed at the rediscovery of fundamental theological truths on the Church, the responsibilities of laypeople, and Christian communities.

Read more...

Resignation
The news was expected but no less shocking. On November 9, 1967, during a news conference at the Archdiocesan Palace of Montreal, Paul-Émile Cardinal Léger announced his decision to leave his position as Archbishop of Montreal to go on a mission in Africa. His leaving Montreal was not an escape; it was part of a "logic of faith and life."

Read more...

Mission in Africa, then in Montreal
Leaving his position in Montreal at age 63, Cardinal Léger never considered himself as going into retirement. During the 24 years he still had to live, he continued to serve the Church with zeal. He was inspired by his motto, Ipsa duce non fatigaris (Under Mary's guidance, you will never be tired). Here is a summary of these years.

Read more...