Families celebrate Candlemas at Sainte-Madeleine Parish
11-02-2020
Candlemas at Outremont's Ste-Madeleine Parish was celebrated by Archbishop Christian Lépine on Sunday, Feb. 2, and well-attended by the community's children and their families.
Fifteen minutes before the beginning of the celebration, Sainte-Madeleine Church was empty… But slowly, children crossing themselves started coming in and greeting parish pastor Patrick joyfully. Parents were happy to meet again. Some parishioners were on their knees, praying. On the hour, the church was filled and the Mass started.
At the beginning of the Candlemas celebration, Father Patrick Vedrenne invited all parishioners to meet Archbishop Lépine at the back of the church for the blessing of the votive candles and the procession of light. "For my eyes have seen your salvation, which you have prepared in the presence of all peoples, a light for revelation to the Gentiles and for glory to your people Israel."(Luke 2:30-32). From these words, Jesus is perceived as the Light.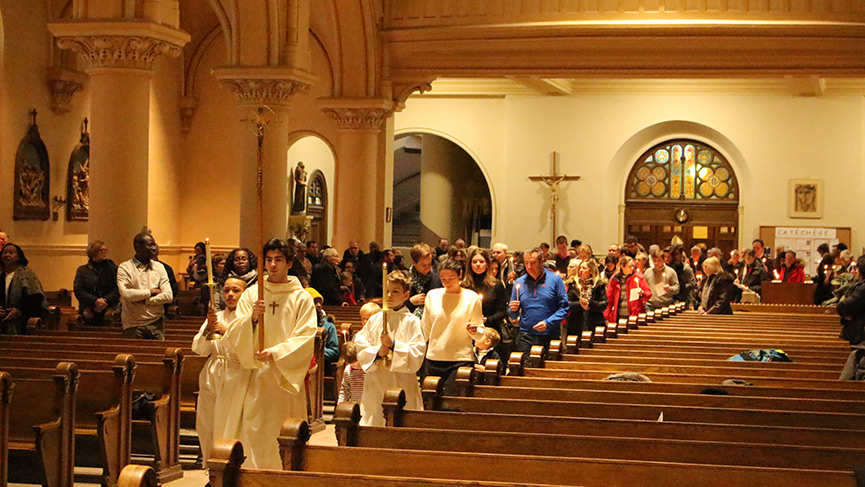 Procession of light
Following Father Patrick's words of welcome, Archbishop Lépine said in his introduction: "your presence helps strengthen our relationships with you, since you represent the Church of Montreal."
In his homily, Archbishop Lépine insisted on several points: the importance of personal and community prayers and long-lasting love, and the necessity to make God a priority in our lives.
Visiting the Temple
Speaking to a great number of families, Archbishop Lépine referred again to the image of Jesus heading toward the Temple with Mary and Joseph, all together as a family. Everyone comes to church to meet with God, to "seek his light, his peace and consolation." But when we go to church on Sunday, we pray together. We do not pray alone. On Sunday, the assembly is like a big family. "We are the children of God, so we are brothers and sisters." As parents love their children, God loves all his family members totally, boundlessly and uniquely recalled Archbishop Lépine. Community prayer is as important as personal prayer.
God as a Priority
When Mary presents Jesus in the Temple, she offers him to God, thus acknowledging that the Lord is given higher priority on the Messiah. For Mary and Joseph, God comes first and they entrust their child to him entirely.
What is the key to long-lasting love in a family, in society and in the Church? "It is to make God the top priority, because in God, love is not a project but a reality: he strengthens us, enlightens us and pacifies us," insisted Archbishop Lépine. When we rely on God, our love grows; when we pray, our potential to love is secured.

True Love Is a Love That Is Always Greater
To conclude, Archbishop Lépine drew a parallel between Love and a wound, a sickness or hunger. When we are wounded, sick or hungry, we know it quickly. Seeing when love decreases is on the contrary more difficult to notice. So, by coming to church on Sunday we take care of our Love for God and we ask him to be able to increase our love.
Many parishioners, one family
At the time of the offertory, song leaders Din Khoi Vu and Phi Lan Nguyen started singing a magnificent song to Saint Madeleine, "Pourquoi chanter, Marie-Madeleine," and in unison young and old alike sang it like they do every first Sunday of the month (also referred as "Saint Madeleine's Sunday").
After the consecration (in a silent meditation despite the many children), as the assembly was singing "Let the little children come to me," Father Patrick distributed the bread that had been blessed to all children who had not yet received the Sacrament of Holy Communion. Then, the assembly servants with white scarves brought the peace of Christ to all parishioners. The children are very welcome at Sainte-Madeleine. They belong there!
At the end of the Mass, a time for "coffee and conversation" was held while the children went to their respective catechism classes. Adults were at that time invited to join groups to share the Word of God.
After the catechism classes, all children gathered to face the Real Presence for fifteen minutes of adoration. Led by Father Patrick and Claire Dognin, the mother who initiated the project, all children were silent. As Archbishop Lépine was introducing himself to the children saying he was the "priest of the churches in Montreal," he explained to them the importance of silence in this too often fast-paced world. He then kneeled down with the children and went into adoration.
The morning ended with a potluck, the "Sainte-Madeleine meal," in order for everyone to feel they were part of God's family.