Sewing for Women's Education
25-06-2020
Yvonne Bourque serves as a parish social action representative at St. Edmund of Canterbury Parish in the West Island and as a member of the Catholic Women's League (CWL) for the last five years.
She is also a volunteer sewer for Days for Girls, a non-profit global network which provides washable, reusable, feminine hygiene kits to girls in lower-income countries who otherwise go without, so they may remain in school.
Many girls in lower-income countries leave school at puberty for lack of feminine hygiene supplies, cutting their education short by several years. Having a Days for Girls menstrual kit that lasts for three or more years, makes a huge difference to their schooling, their dignity, and their empowerment. The girls are also given a short biology course upon receiving the kit, providing education meant to eliminate misconceptions and help end long-held stigmas about feminine menstrual cycles.
Bourque belongs to the Haut-Saint-Laurent Quebec Days for Girls team. Before the onset of Covid-19, team members met about once a month with a choice of a weekday afternoon in Ormstown, Quebec or on a Saturday in Huntingdon, Quebec. Between sewing sessions, team members could bring home additional sewing work to do. The kits they sew and assemble go to Haiti.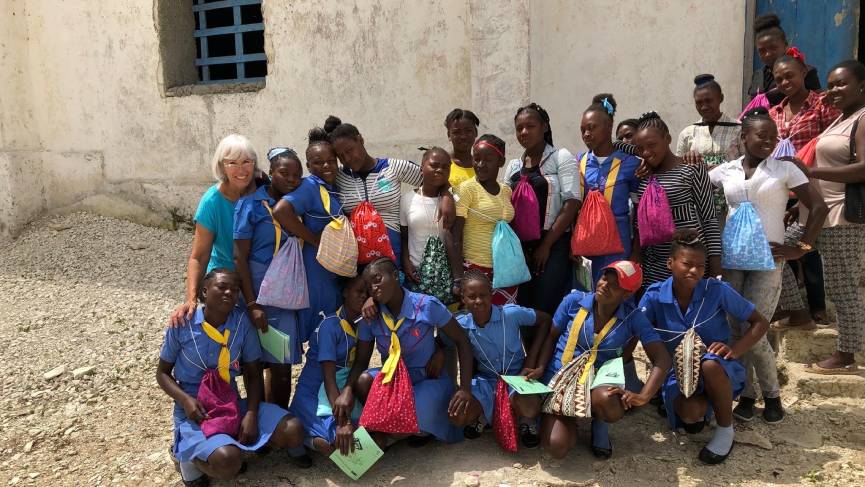 With the Covid-19 pandemic, the Haut-Saint-Laurent Quebec Days for Girls team can no longer meet for sewing sessions. "However, since menstrual periods don't stop for pandemics," said Bourque, "I decided that I would not stop sewing either and I haven't. Nearly every day I sew for this cause. So far, I have made 100 shields (one of the components of the kit) and have supplies to make another 100. Having a confinement goal has been wonderful," Bourque added.
If you would like to join the Haut-Saint-Laurent Quebec Days for Girls team, contact the team leader, Teresa Groenwegen-Caza at: haut-saint-laurentqc@daysforgirls.org. Help can also be given through donations of the correct fabric, panties for older girls, thread, sewing machines, sergers and money.