Conference considers Divine Renovation
21-11-2018
The age of Christendom is long gone, and the parish structure, as we know it, is quickly following suit. Time to consider "divine renovation," Fr. James Mallon asks?
The age of Christendom is long gone, and the parish structure as we know it, with roots in that bygone era, is quickly following suit, predicts the Episcopal Vicar for Parish Renewal from the Archdiocese of Halifax-Yarmouth.

To support that claim, Fr. James Mallon presented statistics reporting the rapid decline in church attendance across Europe and recent findings from his own diocese, which has seen a 50-per-cent attendance drop over a 15-year period. Within 10 years, the number of parishes in his diocese has been reduced from 90 to 43, with another reduction on the horizon, he told an attentive audience during his keynote address at the Parish Vitality Conference, held Nov. 16-17 at Loyola High School.

Mallon is also an international speaker and the author of the bestselling book Divine Renovation: From a Maintenance to a Missional Parish. He was in Montreal to lead the third Parish Vitality Conference, which focused on equipping parishes to pursue renewal and to nurture "missionary" parishioners in the process.
Hopeful signs / radical shift
Despite the gloomy statistics, Mallon assured his bilingual audience that he was absolutely hopeful for the future of the Church, but it requires a radical shift in priorities. Pope Francis spelled out that shift clearly in Evangelii Gaudium: "I dream of a 'missionary option', that is, a missionary impulse capable of transforming everything, so that the Church's customs, ways of doing things, times and schedules, language and structures can be suitably channeled for the evangelization of today's world rather than for her self-preservation."

Elaborating on the 'missionary option,' Mallon shared the insights and results gained from his six-year pastorate at St. Benedict's Parish in Halifax. The result of parish mergers, St. Benedict now numbers 1,400 souls, of whom 850 are currently involved in some form of ministry, based on the Divine Renovation model.
One of the key aspects of this shift is the model of parish leadership that Mallon proposes: the pastor convenes and is assisted by a Senior Leadership Team (SLT). The team both helps the pastor make tactical decisions and helps to bear the weight of shepherding. It's based upon a servant-style of leadership, a mutual trust that does not avoid healthy conflict, and a membership that combines a balance of needed strengths.
Senior leadership teams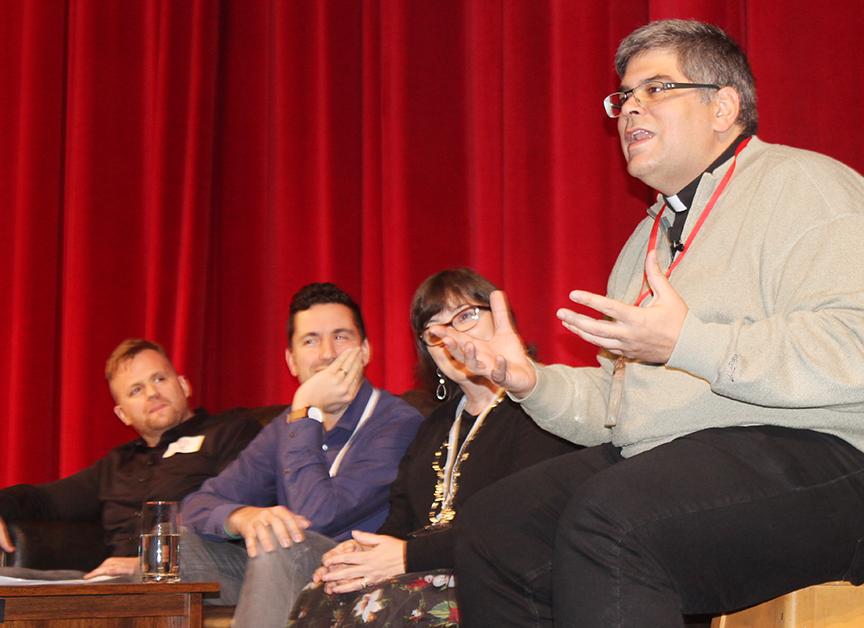 The two-day conference also featured a panel discussion with the Senior Leadership Team from St. Ignatius of Loyola Parish, which is pioneering the Divine Renovation model here in Montreal.

The most transformative dimension for pastor Fr. Michael Leclerc is: "I'm not alone; I'm with people who are invested as I am in what the parish can become ... with people who have my back."

Team members described the many fruits of their initial efforts at St. Ignatius. The parish has offered four Alpha sessions to date, numbering about 200 participants, of whom a quarter have volunteered to help out with successive sessions, reported SLT member Stephen Corsi.à

SLT member Joseph Donovan noted that there were 40 youngsters in the children's ministry program before Divine Renovation, now there are 101. "It's invitational and open to everyone; kids are telling their friends 'you got to come to my church'."

"Clericalism is a big problem in the Church," noted SLT member Rebecca Malone. "I see this model as an antidote to clericalism; I really admire the stamina and humility" of the pastor, she said to spontaneous applause.
Renewal workshops
The afternoon sessions included five workshops, dealing with various aspects of pursuing parish renewal. Baptist pastor Nita Kotiuga focused on drawing out the gifts and talents of parishioners. Strategy consultant Richard Boileau identified the challenges, pitfalls and opportunities associated with managing transformation successfully. Parish Vitality facilitator Terrel Joseph explored the attitudes that prevent church people from leading their parish from maintenance to mission. Fr. Alain Mongeau and his team described the process of transformation embraced by Saint-Jean-Baptiste Parish in the Plateau some 20 years ago and its impact on the neighbourhood. Dan Potvin helped participants to present stewardship as more than a focus on time, talent and treasure.

About 300 people registered for the biannual conference, which included representation from 55 parishes, of which 40 were from the Archdiocese of Montreal (23 English-language parishes, 12 French-language parishes and 5 cultural community parishes). In total, 24 French-language parishes were represented.

The conference was organized by the Office for English Pastoral Services, under the auspices of the Archdiocese of Montreal, with supportive sponsorship by the Pillars Trust Fund. The event was preceded by the English Catholic Community Rally, organized by the English Speaking Catholic Council, during which the Bishop Crowley Memorial Award was presented to Jacqueline and Daniel Cere, co-founders of Dominus Vobiscum – Family Retreat Centre.