Excerpt from Training (below)
Training for churchwardens, employees, catechists and SASMAD
Focus on the Victims of Abuse - started October 15 – Register now!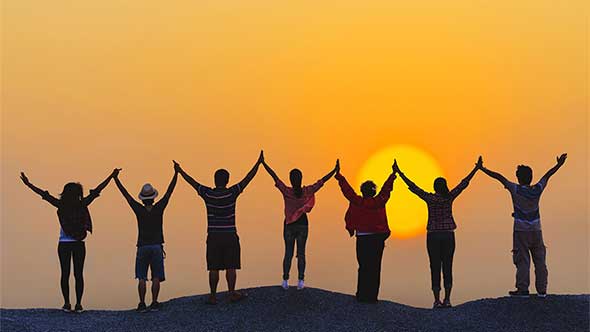 The Focus on the Victims of Abuse is one of the pillars of transformation in our Archdiocese. Phase II of the indispensable VVA program began on Saturday, October 15 and is open to all churchwardens, paid parish employees, catechetical volunteers (18+), as well as SASMAD volunteers from all parishes and missions in the Archdiocese. The training session will be offered in a one-day colloquium format at a parish hall in your area, respecting effective health requirements.
"Along with the Ombudsman listening to victims, this Focus on the Victims of Abuse training is essential for learning together and getting involved together in order to promote prevention": Archbishop Christian Lépine.
"The testimonies are very touching and make us think about the importance of 'never again': Danielle Leduc-Poirier, CSR, Saint-Martin Parish.
"For my part, I learned a lot about different forms of abuse. Now I will be able to detect the red flags in my work and family environment": Magdalena Ybneth Cedeno Banguera, MRDM sexton.
"A fine and courageous initiative on the part of the Archdiocese of Montreal. Thank you": Fr Dominic VU, deacon, Saints-Martyrs-du-Vietnam.
"This training is essential. Thank you so much for this program. I feel better equipped and protected": Sylvie Quenneville, CSR, Saint-Enfant-Jésus Parish.
If you are a person included in the four categories listed above (churchwardens, paid parish employees, catechetical volunteers (18+) or SASMAD volunteers), please register by clicking on the EventBrite link (below) that corresponds to your preferred date and location. If you are a paid employee, we invite you to register on a weekday, so that your day will be paid.
This training is offered free of charge, and each seminar will be hosted by inspiring leaders and will include periods of interaction and participation.
CALENDRIER - CALENDAR
Addresses of the halls
Sanctuary St-Judes/St-Benoit, 10120, d'Auteui Ave., Mtl, H3L 2K1 – (514) 381-1767
St. John Fisher Church, 120 Summerhill Ave., Pointe-Claire, H9R 2L7 – (514) 695-0205
Mary Queen of Hearts Shrine, 5875 Sherbrooke St. E., Mtl, H1N 1B6 – (514) 254-5376
St. Sixtus Church, 1895 de l'Église St., Ville Saint-Laurent, H4M 2M9 – (514) 747-7621
St-Thomas à Becket Church, 4320 Ste-Anne Street, Pierrefonds, H9H 4Y7 – (514) 626-4111
Mary Queen of the World Cathedral, 1085 de la Cathédrale Street, Mtl – (514) 866-1661
Our Lady of Egypt Coptic Catholic Church, 3569 Blv Lévesque Ouest, Laval H7V 1G1- (450) 934-0995
Centro Santa Famiglia, 4765 Robert Blvd., St-Léonard, H1R 1P5
Our Lady of Divine Love, 765 Roland-Forget St., Laval H7E 4C1 – (450) 663-1120
To register, please open the attached file Guide for registration via Eventbrite and follow the instructions.
If you require information about your registration for this training, please contact Maria Parente (T. (514) 925-4300 ext. 212 or mparente@diocesemontreal.org)
Thank you for your cooperation.
Vous désirez porter plainte ? Communiquez avec l'Ombudsman.
« L'Archidiocèse de Montréal veut aller au fond des choses dans la recherche de la vérité et fait appel à une Ombudsman, autonome
et indépendante de l'Église, qui accueille avec bienveillance et compassion toute personne qui fait appel à elle pour déposer une
plainte à l'égard de toute forme d'abus ou de comportements inappropriés, quel que soit l'âge de la victime, ou le moment où est survenu l'abus ».

« Nous voulons entendre les victimes et mieux les soutenir ».


+ Christian Lépine
archevêque de Montréal

Lettre de l'Archevêque
Documents sur le traitement des plaintes
Système de signalement épiscopal
Rapport de l'honorable Capriolo
Pastorale responsable

---
« Passer de la parole au geste »
Dans une lettre d'opinion publiée le 8 septembre 2018 dans les quotidiens La Presse et The Gazette, Mgr Christian Lépine, archevêque de Montréal, appelle l'Église à se montrer ferme dans sa lutte contre les abus sexuels.
---
Système de Signalement Épiscopal
| | |
| --- | --- |
| Les évêques du Canada lancent un service national bilingue pour signaler les situations d'abus sexuels commis ou dissimulées par un évêque. Ce service renforce leur engagement à l'égard de la responsabilité, de la reddition de comptes et de la transparence en matière d'abus sexuels commis par le clergé, et celui de faciliter davantage la guérison et la justice pour les victimes et survivants. | |
---
Traitement des plaintes d'abus
| | |
| --- | --- |
| Le rapport Capriolo a été rendu public le 25 novembre 2020 et nous avons pris l'engagement de mettre en œuvre les recommandations grâce au travail d'un Comité coprésidé par l'honorable Pepita G. Capriolo et Mgr Lépine. Il en résulte un processus de traitement des plaintes centré sur la victime, où toutes les formes d'abus et de comportements inappropriés sont incluses et où l'âge de la victime n'est plus déterminant. La présence d'une Ombudsman, la création d'un Comité consultatif laïque de cinq membres, dont un survivant, et des enquêtes faites par des experts externes, permettront de traiter chaque plainte avec diligence et respect. | |
---
Témoignage vidéo - Il faut le dire
Sous cet onglet, on retrouve le rapport de l'honorable Pepita G. Capriolo, rendu public en novembre 2020. Le rapport visait à comprendre qui faisait quoi, quand, dans le traitement des plaintes visant l'ex-prêtre Brian Boucher, durant sa carrière au sein de l'Église catholique de Montréal.
Nous avons diffusé un communiqué le 9 juin 2022 sur le rapport de l'honorable André Denis sur ses deux mandats portant sur l'examen des dossiers personnels de toutes les personnes vivantes, incluant les personnes actives ou à la retraite, ayant servi dans neuf diocèses, en 1940 et 2022, ainsi que sur un audit statistique afin de recenser les abus sexuels confirmés ou bien fondés, ayant été imputés à tout évêque, prêtre, diacre permanent, membre du personnel employé par un diocèse ou du personnel pastoral ayant œuvré en paroisse entre les années 1940 et 2021.
Communiqué du 9 juin 2022


Rapport de l'honorable André Denis

In June of 2016, our archbishop Most Rev. Christian Lépine published the Decree regarding the Diocesan Policy for Pastoral Responsibility, preparing for the implementation of a pilot project in some of the parishes of our diocese.

The time has now come to present the first summary of what was carried out by the parish pastoral teams that were part of this pilot project.

On this page you will find a monthly publication which will highlight the experiences of each of the parishes that were involved in the implementation of this policy. Three sections are presented: steps undertaken, challenges that were met with, and accomplishments, so as to recognize the efforts of those pastors and parish teams who put this pastoral responsibility into practice.

If you are a pastor of a parish within the diocese of Montreal and you would like to apply these new diocesan norms, please contact the diocesan coordinator of Pastoral Responsibility Services. It will be a pleasure to accompany you and to provide you with all of the necessary tools for this process.

The principal objective of the Diocesan Policy for Pastoral Responsibility is to assure a healthy and safe environment for all, while preventing all types of abuse of those who are vulnerable.
Pilot parish summaries:

Saint-François-de-Montmorency-Laval
Purification de la Bienheureuse-Vierge-Marie and Notre-Dame-des-Champs
Saint-Théophile and Sainte-Dorothée
The diocesan pastoral responsibility service wants all parishes, works and diocesan organizations to put into place a systemized screening process for salaried personnel and volunteers. Integrating this process of preventative measures into current systems of operations will allow us to achieve the objectives of the pastoral responsibility policy.
Contact information:
Responsible Pastoral Ministry
2000, rue Sherbrooke Ouest
Montréal (Qc)
H3H 1G4
(514) 925-4300, ext. 353
pastoresponsable@diocesemontreal.org